Surgical Steel The Commonwealth - Australian Tour 2014 @ The HiFi, Brisbane, Australia
CARCASS / Rome
in Friday, 13 June 2014 at The HiFi
by Brad Hicks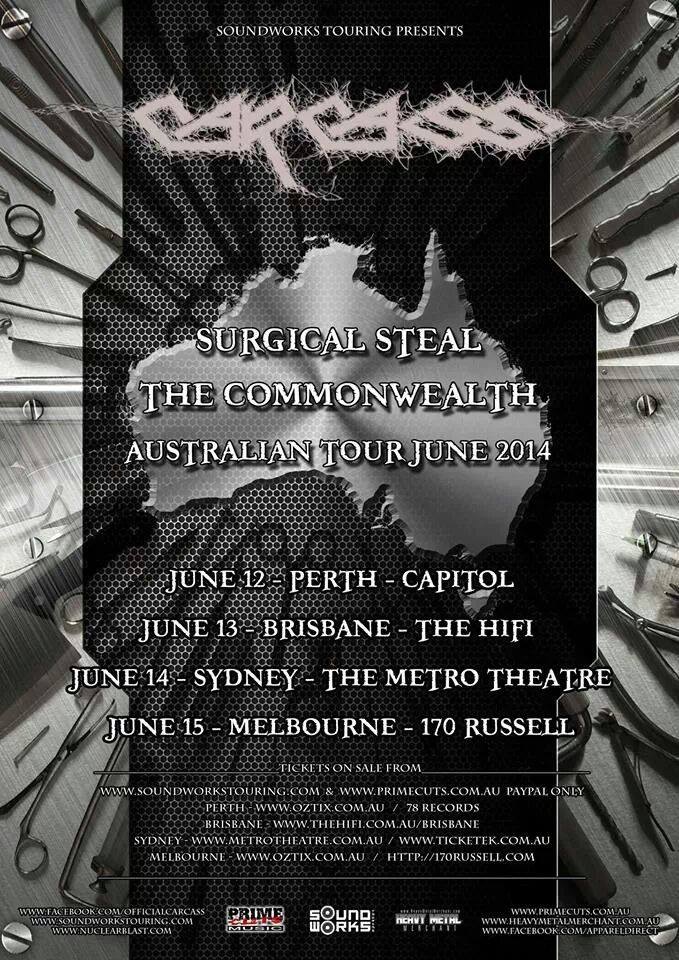 On my way to the gig I glanced out of the cab window and noticed the full moon, then realizing the significance of the date (Friday the 13th) I was even more excited to be seeing the mighty CARCASS live for the first time. Surely this was to be a night of top notch metal. I asked the cab driver if he had heard of the British metallers and he replied asking if they were pronounced with a K or C because he was confused by the spelling of another Metal band named KORN! Anyway you know it's going to be a great night when the next full moon on Friday the 13th isn't until 2049 (google it bitches) and your talking metal with a 63 year old cab driver!

I arrive early and the line is already building along the side entrance wall. A quick photo opportunity with CARCASS ' legendary guitarist Bill Steer takes the buzz to even greater heights and I also notice a few fans wearing tees of the local support band ROME.

The doors finally open around 8 and another large line forms for the CARCASS merch section. The distance between the front barriers and stage is barely a meter so I decide to hang on the front rail instead of squeezing in with the other media and photographer personnel. Fuck yeah right up front with all the CARCASS nuts. Or so I thought- to my left was a rather chatty lad who was dying to see some high hat action from both drummers and to my right a young man from the Middle East who mentioned that this type of music was not well received in his home country! Bizarrely we both remember that we stood shoulder to shoulder at Soundwave for AMON AMARTH. Must be the full moon.
 
Anyway ROME is up and without mucking around they get straight into it. The room is not jam packed yet but people are slowly streaming in. The Gold Coast 5 piece plays hard and with a high amount of confidence. Doing their best to interact with the (mainly) CARCASS  fan base. Front man Nik Carpenter tries to get a few chants going but it's a tough crowd which is sad from an Aussie metal fan's perspective.
 
ROME consists of members from DEVOLVED and THE BERZERKER and these guys smash out a 9 song set including "Your Leaders Deity", "300,000" and "The Cheerless Dwelling of n Avaricious Usurer". They sound heavy and pull out some great riffs for drummer Todd Hansen (just announced as new KING PARROT drummer) to bash along to! ROME have done a great job as support and as far as I can tell on the front row both the chatty lad and Middle Eastern young man next to me are nodding with words of approval. They finish up and receive a small round of applause and cheers. The room is now filling up. CARCASS  is next!
 
I have to admit I was expecting a lot more people but it was still a pretty good turnout and when the intro song 
"1985"
 off the new
CARCASS
 album
"Surgical Steel"
blasted through the PA the crowd went nuts! With a quick glance behind me I noticed the early formations of where the pit would form as the die-hard fans were preparing for battle. Outstepped
Daniel Wilding
,
Ben Ash
and
Bill Steer
and as the intro finished
Jeff Walker
joined them.
"Buried Dreams"
 kicked things off and with a big scream from Walker we were underway. God these guys sounded in the zone! The drumming was spot on, the guitars harrowing!
Walker
's growling vocals sounded as good as any studio recording. With a quick pitch of their new album they played 
"The Granulating Dark Satanic Mills"
 and as you would expect some other new songs including 
"Captive Bolt Pistol"
,
"A Congealed Clot of Blood"
 and the absurd titled 
"Noncompliance to ASTM F 899-12 Standard
". They might as well play the album straight into the PA as they sounded that tight! All albums from 88's
"Reek Of Putrefaction"
and up are represented one way or another with some songs only having their intros played. 
"Carnal Forge"
,
"Incarnated Solvent Abuse"
,
"Unfit for Human Consumption"
… It was a killer set and I for one couldn't tell if there was a favourite as the crowd absolutely loved them all.
Setlist:
1. 1985
2. Buried Dreams
3. Carnal Forge
4. No Love Lost
5. This Mortal Coil
6. Corporal Jigsore Quandary
7. Incarnated Solvent Abuse
8. The Granulating Dark Satanic Mills
9. Captive Bolt Pistol
10. Cadaver Pouch Conveyor System
11. A Congealed Clot of Blood
12. Noncompliance to ASTM F 899-12 Standard
13. Unfit for Human Consumption
14. Black Star / Keep On Rotting In The Free World
15. Heartwork 
Despite a certain post going around at the moment from a certain metal radio station (that shall remain nameless) that said Australian Metal crowds are the worst in the world I would have to disagree. The Brisbane show had a good of a pit as you could have asked for and a few crowd surfers with one bloke that took things too far who kept violently pushing his way back into the pit from the outside. He caught the eye of a big security guard who grabbed him on the third attempt and skull dragged him out through the exit doors. That guy got what was coming but other than that everyone was in good spirit, noisy and had the horns constantly up! Jeff Walker interacted well with the crowd with a humorous tone jokingly saying that they were doing all the work. He also joked about his mum not believing that he swears and that their new drummer was in a couple of crap bands before joining CARCASS . He did however state that he thinks pits are stupid and too American and that if you don't want to move just bang your fucking head!

As the encore rolled out a few more songs Walker picked up a box from the side of the stage. In it was a 21 year old CARCASS backdrop that was stolen from the band back in 93. The anonymous culprit decided to return it tonight and I'm pretty sure it made their tour! CARCASS delivered some world class heavy metal this evening! Drunk or not everybody walked away with big grins on their faces and will jump at the chance to see them again full moon or not!
 
*Contributed by our Australian partners – METAL ROOS
*Photography by Gethin Hill Photography
Ticket Price: