Hörnerfest 2017 (Germany)
Nine Treasures, MNS, Drakum, Off Limits, Troll Bends Fir, Mr Irish Bastard, Skalmöld, TANZWUT, KNASTERBART, Ithilien, Haggefugg, Lagerstein, Mythemia, Heimataerde FEJD, MUTABOR, SKYCLAD, EENSIFERUM
in Friday, 30 June 2017 at Schierenhöhe
by Erika Kuenstler
Germany has no shortcoming of metal festivals and medieval markets to choose from, and in this deluge of festivals and events, there are very few really unique ones. However, Hörnerfest is one of the exceptions, probably because of it's singular mix of both of these types of events. Metal Temple recently had the pleasure of catching Hörnerfest for the very first time.  Back in its 11th installment, this year's Hörnerfest took place from the 30th of June to the 1st of July, located in a quaint rural setting, and largely happening in the meadows of the organiser's own home.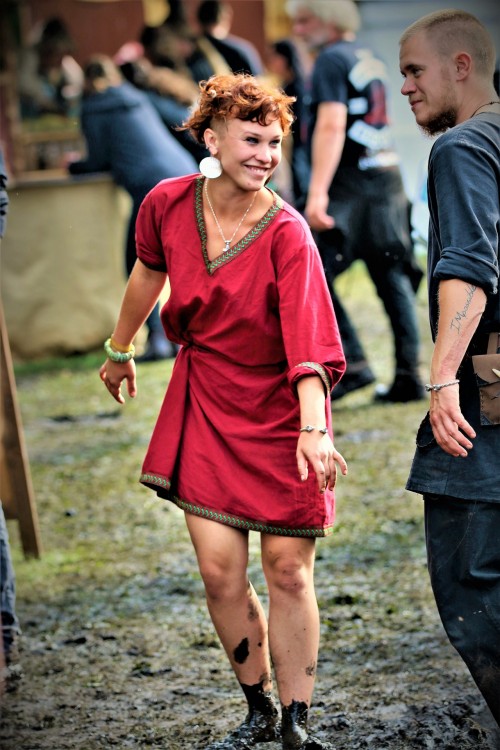 Upon arrival, you pass through a throng of medieval market stalls, selling a whole range of goods and products. These stalls had pretty much everything your heathern heart could possibly desire, from hookah tents serving orientally spiced coffees through to stands selling furs and skins, from food to beverages like mead, all the way through to clothing authentically looking like garb worn in the middle ages, leather-work, handcrafted goods, and much more. Interspersed among theses stalls were the tents of reenacters, giving visitors the chance to see first hand how people used to live in bygone centuries. Many of the exhibitors were also more than happy to share their knowledge, providing hands on experience and demonstrations of a variety of medieval skills and trades, whilst also providing you with the opportunity to watch them craft their goods themselves. Giving everything an even more authentic feel was the jester who walked around the festival, entertaining crowds with his juggling antics.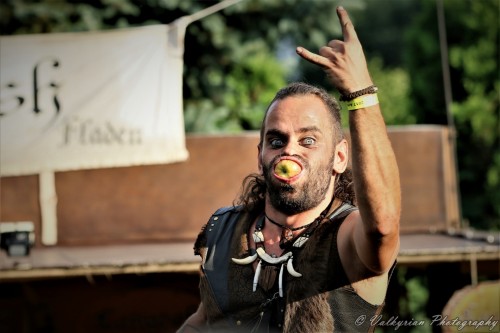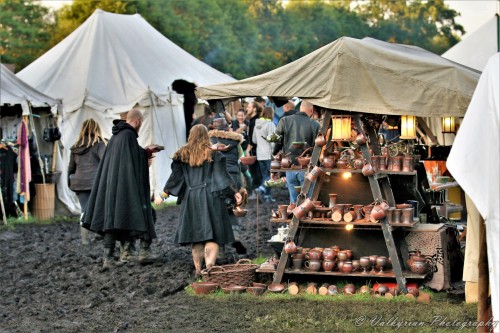 I had unfortunately arrived fairly late, and was busy setting up my tent as the first band was playing, much to my disappointment, as I had really been looking forward to seeing the Chinese Folk Metal band NINE TREASURES. However, much to my delight,  the band had also been delayed, resulting in them being switched with the second band in the running order, giving me the opportunity to catch them after all. This was an interesting show, with traditional Chinese instruments being incorporated into the swirling Folk melodies. But this was just tip of the iceberg, with more excellent bands taking to the stage, including bands like TROLL BENDS FIR, MR IRISH BASTARD, SKALMÖLD, and TANZWUT. Headliners of Friday night were KNASTERBART, a hilarious and entertaining German Folk Rock band. Enthralling the crowd with drunken tales and shenanigans, this band ensured the ultimate party mood, with fans thoroughly enjoying the show. Their raucous show was definitely one not to be missed, and thoroughly got the audience going with their catchy refrains and comical stage show.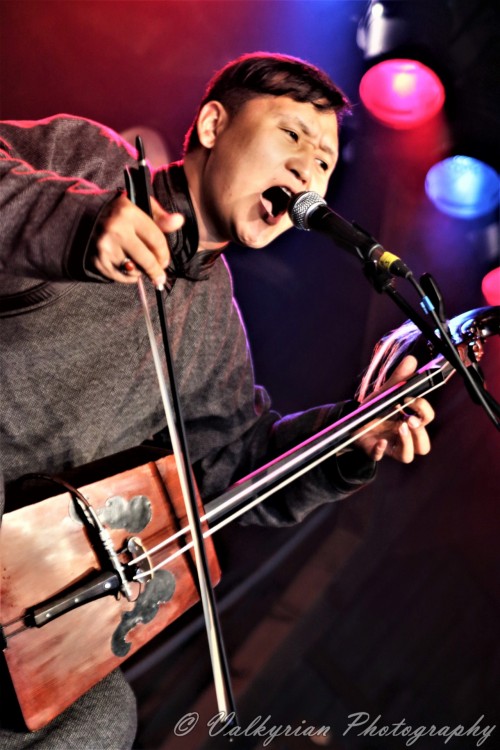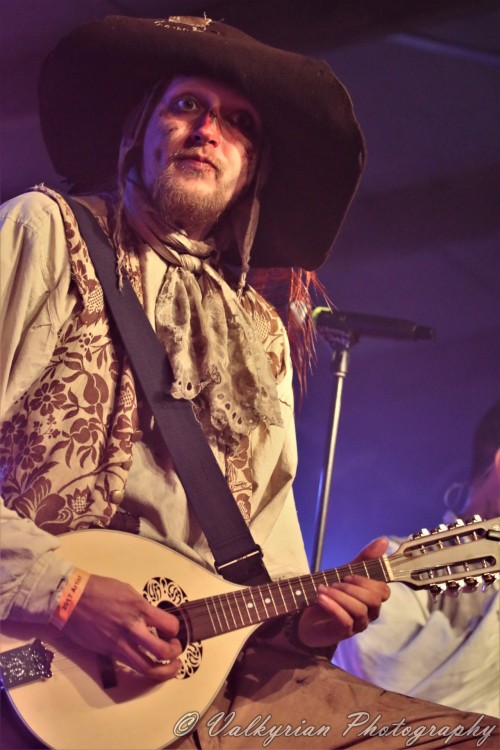 Saturday had even more excellent bands in store. ITHILIEN, a Tolkien-inspired band hailing from Belgium, started off the day, introducing songs from their recent album "Shaping the Soul".  A further highlight of the day were the raucous pirates of LAGERSTEIN, an Australian band who recently has been touring much of Europe. HEIMATERDE delivered a very different type of show, with their style going far more towards the Industrial end of the spectrum, although their medieval-crusaders-meet-techno-future sound was somewhat marred by the bad mixing of the sound. However, this was thankfully an exception, with the sound generally having been pretty decent for a festival. However, possibly one of the most outstanding performances of the festival, and certainly one that I was most looking forward to, was FEJD, a Swedish Folk band who play all too seldom in Germany. Following on from this were more must-see shows, courtesy of MUTABOR and SKYCLAD. However, the band that most had been eagerly awaiting were the headliners of Saturday night: ENSIFERUM, a band who need no introduction in the Folk Metal world. One thing the band can always be relied upon is to deliver an infectious and captivating show, and Hörnerfest proved to be no exception.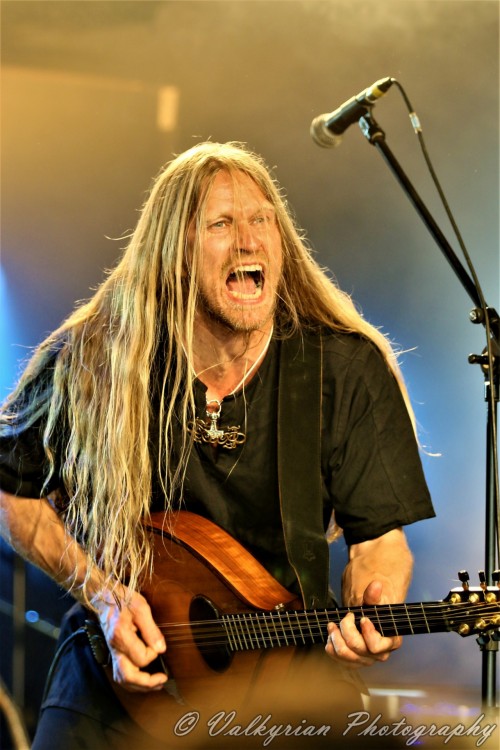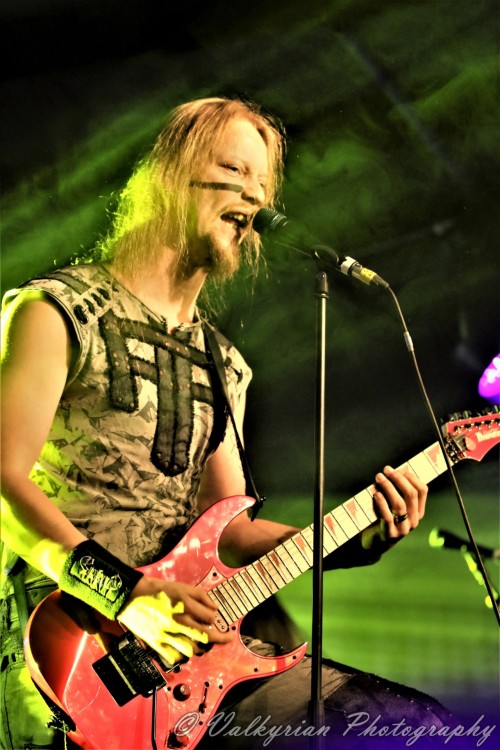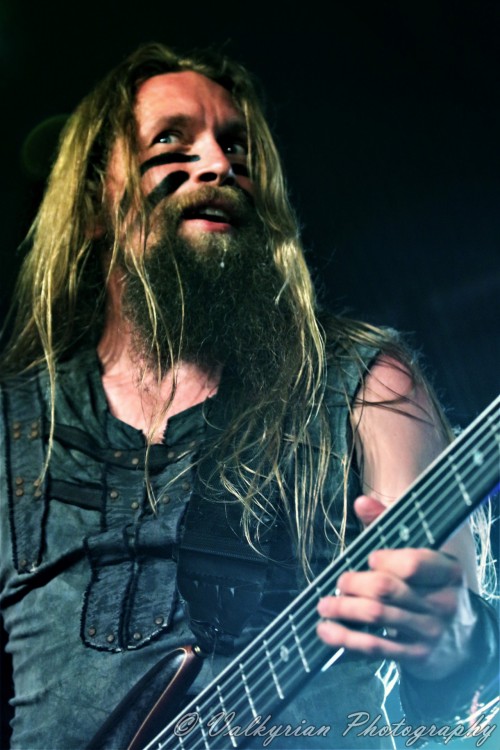 But no matter how good the bands are, one thing that makes or breaks a festival in my opinion is the infrastructure. And here again, Hörnerfest did not disappoint. The facilities were really well organised, with clean flushable toilets being available for a small fee, along with free portaloos that were kept clean throughout the festival. There was also a massive range of food stands available, considering the overall size of the festival. This ranged from typical food found on medieval markets all the way through to more homely food at very affordable prices, ensuring that there was something for everyone.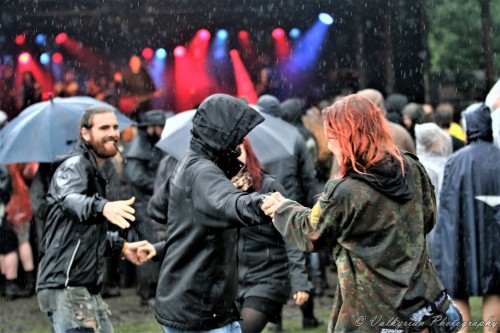 Unfortunately the weather was on the rather uncooperative side. Despite being a veteran of  dozens of festivals in the last few years, this was probably some of the most unrelenting bad weather I have ever experienced. A storm or periods of heavy rain are one thing, but it completely puts a damper on things when a light rain falls consistently and without a single pause for almost two days straight. As a result of this, it didn't take long for the paths to be turned into near impassable quagmires. There are generally few things less appealing than being at a festival with nothing but wet clothes and miserable, cold weather. However, whilst most festivals would be a complete write-off under such conditions, Hörnerfest was fairly well prepared for such eventualities, laying down grit in the worst parts. The stage construction had been overhauled since 2016's festival, with the stage being rotated by 180 degrees. A roof had been extended from the stage, providing shelter for a large portion of the crowd, much to the relief of those intent on catching the bands. And to add the cherry on the top, two of the medieval stalls made the weather even more bearable. The fist of these was the "Zuber" tent, in which medieval styled bath tubs, resembling massive wooden barrels, were available for steaming hot baths. There was really nothing more relaxing that soaking in these steaming tubs for an hour or so and getting completely warm again before heading back out into the rain. The second stand that made the rainy weather a lot more comfortable was the "Scorpion Inn". This oriental themed tent had hookah pipes for rent, with a variety of different tobacco flavours. More than this, they also served spiced tea and coffee, warming you up with their zesty exotic tastes. Sitting in the warm tent on little stools, surrounded by these different scents was a very welcome chance to sit back, relax, and enjoy being out of the rain.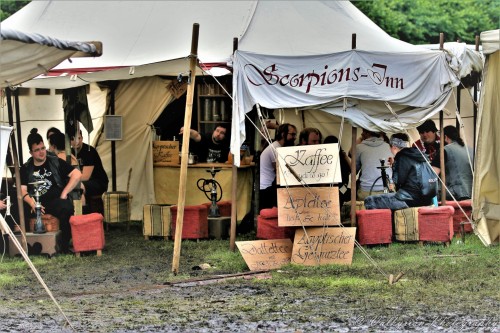 Overall, it was a pity about the really bad weather. However, stuff happens, and the fact that so many people had so much fun despite of this stands testament to the quality of the festival. This was a small, intimate, and very well organised festival that provides an excellent alternative to all the commercial festivals out there. I highly recommend it not only for hardcore medieval fans, but also for anyone who wants to experience something unique and off the beaten track. For more photos, check out
Valkyrian Photography
.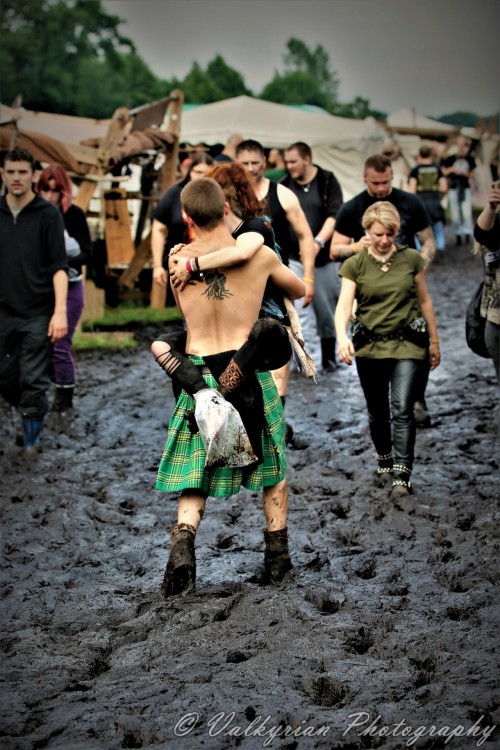 Ticket Price:
Edited 15 August 2020