Midgardsblot Festival 2019 Review
HEILUNG, IVAR BJØRNSON & EINAR SELVIK, ENSLAVED, DEICIDE, GAAHLS WYRD, MEMORIAM, TORMENTOR, VREID, EINHERJER, EREB ALTOR, ZURIAAKE, URARV, WHIP, BYRDI, VÓLUSPÁ, SINDRI, GÅTE
in Thursday, 15 August 2019 at Midgards Viking Centre
by Erika Kuenstler & Sarunas Dreseris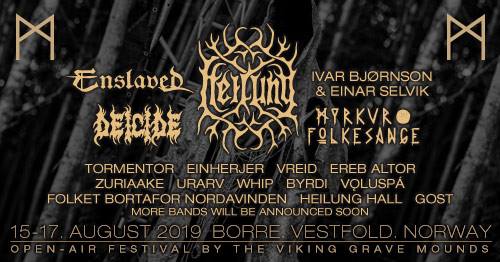 August is always a special time of the year for me. As the summer starts to slowly fade and the nights grow longer, the anticipation begins to stir and awaken, knowing that it's finally time to start heading home, to Norway, to Borre, to MIDGARDSBLOT festival. For those who have been to this magical festival, you'll understand why I refer to this festival as home. Everything down from the smoky, warm, welcoming smell of the Gildenhalle all the way through to the deep connections formed with the wonderful people around the bonfire resonate with feelings of home, hearth, and family. In just five years, MIDGARDSBLOT festival has quickly grown from a small Norwegian festival into an international community that has brought together like-minded people from all different walks of life. But what makes this festival so special?

One of the most unique aspects of this festival is its location; situated on the shores of one of the famed Norwegian fjords, Borre seems to be just a small fleck on the map at first glance. Even in person, you might be forgiven for not thinking much of the place if you're just passing through. The verdant meadows lined with oak and birch trees and gently undulating hillocks seems unspectacular at first. Yet this place that so many from all over the world have come to call home is redolent in history, pulsing with its own power, seeped in Norse history, culture, and magic that is still very much present today. The unassuming hills are in reality ship mounds, marking the location of the graves of prominent vikings. A few hundred meters inland, you find the Midgard Viking Centre, a museum dedicated to the rich history of this beautiful corner of Norway. Here, informative exhibits transport you back to a bygone age, giving you a glimpse of everyday life hundreds of years ago. A short walk brings you to the Gildenhalle, a viking longhouse, painstakingly reconstructed to resemble original longhouses as closely as possible. And it is at this incomparable location where once a year MIDGARDSBLOT festival takes place.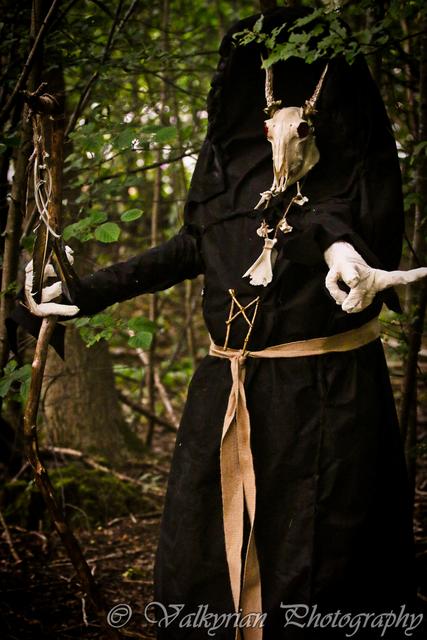 This rich history resonates through the fields, infusing the festival, making MIDGARDSBLOT a heady blend of a remarkable way of life, of ancient tradition, of music both archaic and modern, of celebration and making new memories, and of remembrance. The festival begins with a blot, a ritualistic sacrifice honouring the old Norse gods and following the traditions of our ancient norse forefathers. With the blot being led by FOLKET BARTAFOR NORDAVINDEN, an integral part of MIDGARSBLOT's family, mesmerising drums beat out an entrancing rhythm as those who wish to then used sprigs of sacred wood to make a blood sacrifice to the god(s) of their choice. This was a magical experience, marked by an increasing popularity over the years, and an unforgettable opening ceremony to an equally memorable festival.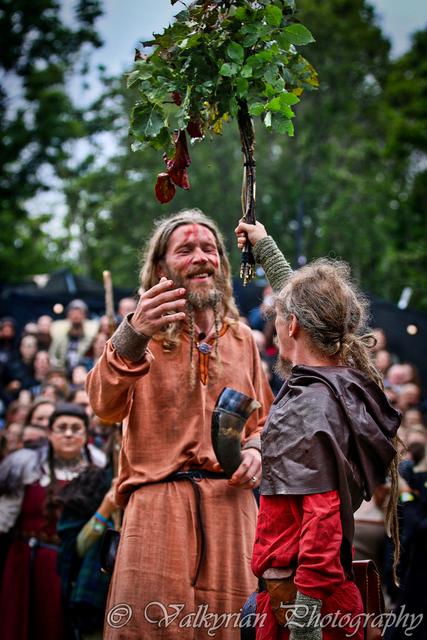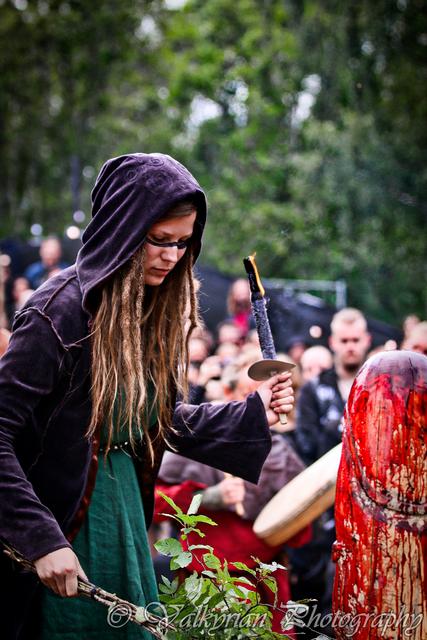 Whilst aspects like this blot feed the soul, there are also plenty of opportunities to enrich the mind. Not only are visitors free to explore the museum and the surrounding ship mounds by themselves or by joining one of several guided tours, but a large number of talks and workshops are also organised. These cover a diverse range of topics, ensuring that there is something of interest for everyone. For example, Jouni Koponen and Dee Cunniffe, both leading comic artists, gave a lecture on viking comics, which was complimented by a comics character design workshop. For those more interested in the history of the area, Frederik Bjonnes, a well-known history expert at MIDGARDSBLOT gave a fascinating talk on the importance of the site at Borre, whilst Terje Gansum shared interesting insights into how new technologies are being used at Borre to gain a deeper understanding of the significance of this area. Einar Selvik, best known for his work with WARDRUNA, talked at length about his music, offering unique insights into what goes into his creations. Another enthralling event, and which was sold out very quickly, was a Nordic historic foodtasting, organised by MATR, an increasingly popular duo who host some of London's finest dining experiences.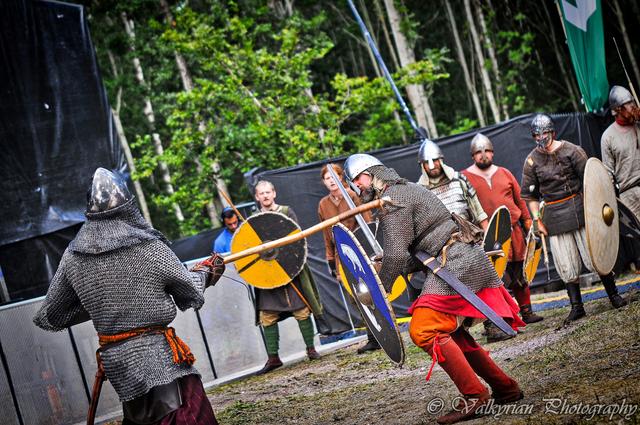 And for those who preferred to have a bit more action, there were also many activities to get you moving. As every year, there was a whole bunch of viking games to take part in next to the museum centre, including feats of strength and balance, archery and axe throwing, and viking chess. You could even join the Metal yoga, another favourite over the years. But what would all this be without a bit of silly fun? This year for the first time, the Floating Unicorn Race was held. Originally starting off as a joke in the community's Facebook page, this soon garnered a lot of support which resulted in a spectacularly hilarious event held at the fjord by the campsite. Armed with a fleet of inflatable unicorns, a whole slew of teams entered the race, with the idea being that the first team to make it to a buoy and back to shore would win the race, snagging some cool merchandise in the process. What made this all the more fun is that besides this general goal, there were no real rules in place; some teams came very well prepared with oars or flippers to aid them, whilst others foraged in the bushes moments before the race, coming up with an odd assortment of aides, such as wooden planks or even just stout branches. Under the bemused but watchful eyes of the Norwegian coast guards, these teams set out across the choppy waves, capsizing at every turn, much to the amusement of the onlooking crowd.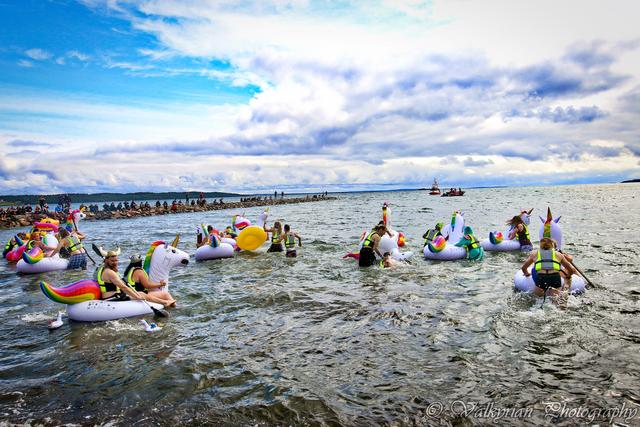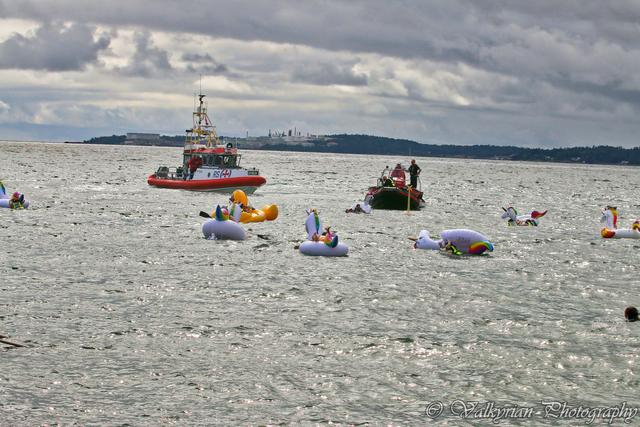 As for the music, MIDGARDSBLOT had a wide array of bands ready and waiting to set the various stages ablaze. In the merchandise area of the festival, a small stage was set up in a tent, close to a small fire pit, providing a cozy atmosphere where smaller and more folky bands played. The second stage was set up in the longhall, which once again proved to be a fantastic backdrop to the many bands and DJs that played here over the course of the three days, giving an intimate atmosphere that together with the music transports you back through history. Last but not least is the main stage, situated just outside of the longhall. It is here that the more renown bands captivate the audience with some of the most spellbinding performances that I have seen all year.

Back once more was GAAHL'S WYRD, delivering an intense and relentless set. With their show starting directly after the opening blot ceremony, spirits were already running high as the band took to the stage, making for an unforgettable performance, despite the early slot. This was followed by TORMENTOR, who absolutely shredded the audience with their voracious sound. Also much beloved were FOLKET BARTAFOR NORDAVINDEN, who are an undeniable force to be reckoned with, and had a series of stellar performances over all three days of the festival. However, undeniably the band that most were looking forward to on Thursday was HUGSJÁ / SKUGGSJÁ, a project formed by two leviathans in the scene: Ivar Bjørnson of ENSLAVED and Einar Selvik of WARDRUNA, and which originally arose through a collaboration the two artists did for the first ever instance of MIDGARDSBLOT. Whilst this was the first ever performance of this project at MIDGARDSBLOT, this was also one of the most anticipated shows at this year's installment of the festival, and they certainly did not disappoint. With very talented guest musicians joining them on stage, HUGSJÁ / SKUGGSJÁ wove a rich sonic tapestry that soon had everyone present completely spellbound.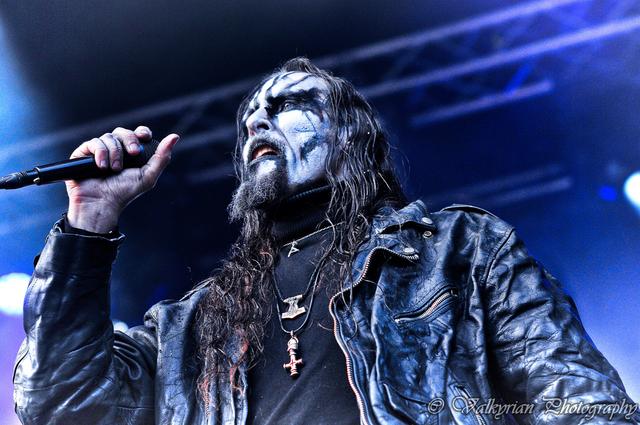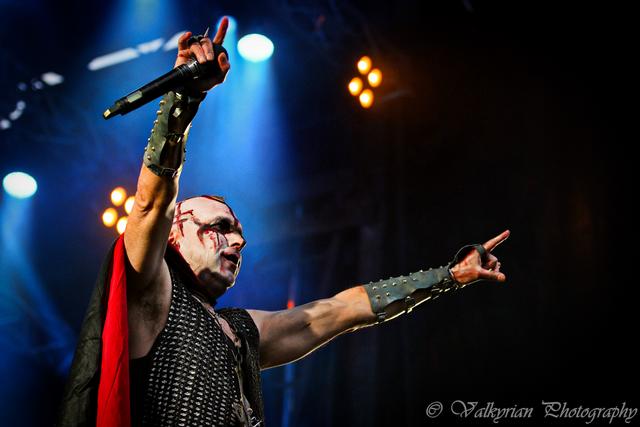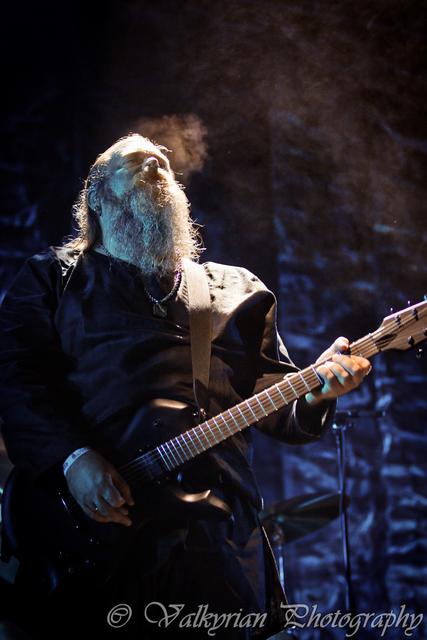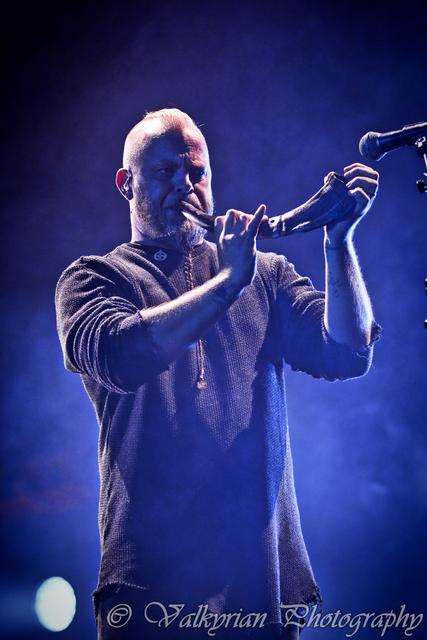 The second day of the festival was even more jam-packed with phenomenal shows. One of the most talked about performances on this day was GÅTE, an old Norwegian Folk Rock band. The energy of this show was completely rivetting, and left those unfamiliar with the band astounded. Another show that was not to be missed was VREID. Having just released their eighth full-length album, the seasoned musicians behind this masterpiece never fail to deliver, their infernal Black 'n Roll melodies obliterating the audience, and paving the way for the headliners of the night, DEICIDE. These masters of the American Death Metal scene had an arsenal of "best ofs" up their sleeve, dusting off some of their older discography for the show, although the delivery was somewhat marred by poor sound quality. Added to that, this band was perhaps a little too "extreme" for some, resulting in a fairly low turn-out. However, for those more interested in Ambient or Norse music, a whole slew of excellent performances graced the other stages throughout the day. This ranged all the way from the raw landscapes of SINDRI's music all the way to the Norse spirituality captured by the Dark Ambient project FYLGJA.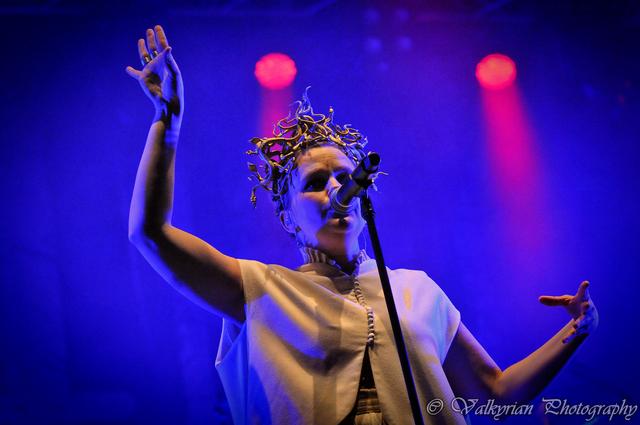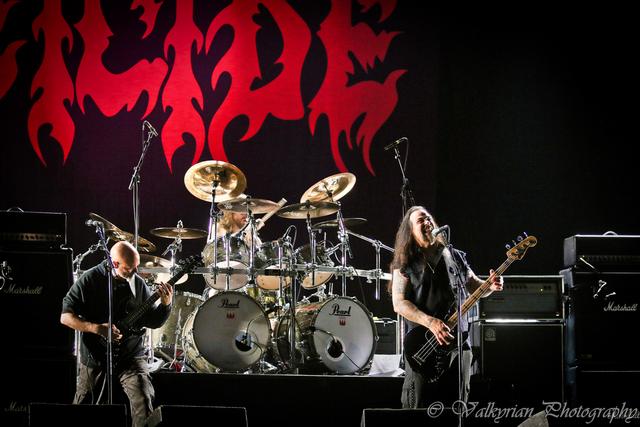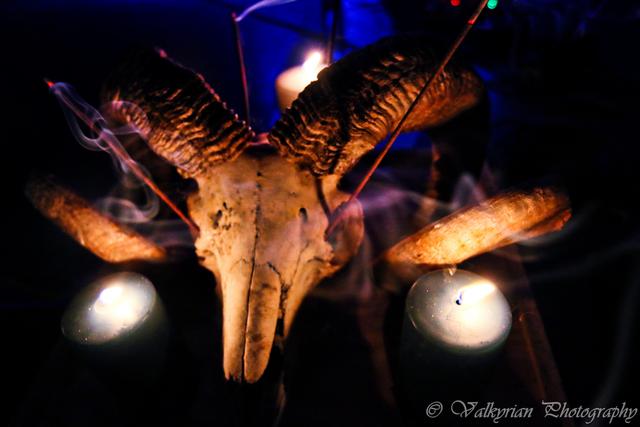 And in seemingly the blinking of an eye, the last day of the festival was already upon us. This was arguably the most phenomenal day of all, featuring a whole host of incredible bands. Despite the bad weather that had pummeled the festival that morning, there was already a big turnout for the first few bands of the day. EREB ALTOR, the first band on the main stage, soon got things warmed up, despite the last bit of drizzle that plagued the festival grounds. Meanwhile, hidden gems like VÓLUSPÁ, a relatively new folk Rock band, created a magical and intimate atmosphere at the smaller stage, as did the mesmerising melodies of RUNAHILD, which wove haunting and ethereal soundscapes during an unforgettable album release show, just to name a few. The last three bands at the mainstage alone were already an experience not to be missed. For those into Viking Metal, EINHERJER need no introduction. These Norwegians soon had a fiery show going, complete with viking warriors in full armor going mad in the pit. The atmosphere created was an electric and heady mix, bitter-sweet knowing that this was the last day, but still sizzling with anticipation for what was still to come. Following on from this was ENSLAVED, more pioneers of the Norwegian Viking Metal scene. However, ENSLAVED have never been ones to do what is typical and expected, and this show was no exception. Here they teamed up with Mia Habib Productions, with four dancers joining them on stage and bringing the experimental undercurrent of ENSLAVED's music to life. Whilst this was a bit surreal and chaotic at first, the visuals along with the enthralling melodies melded together as the show progressed, coming to a dramatic climax at the end of their performance.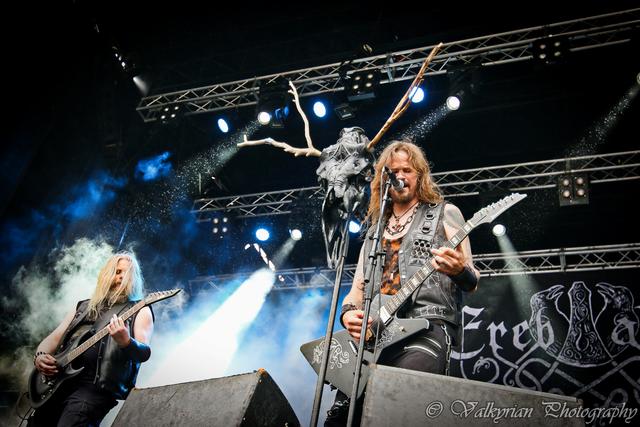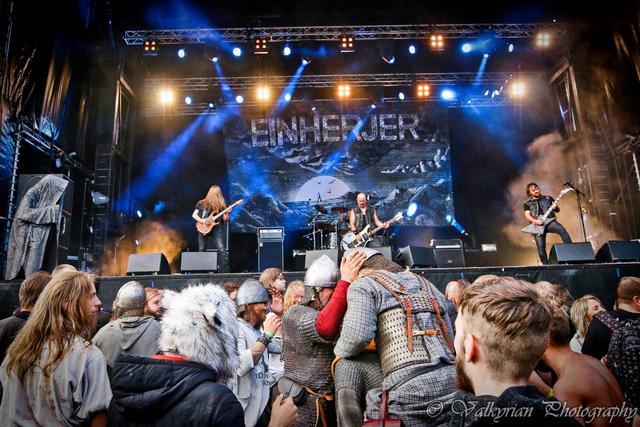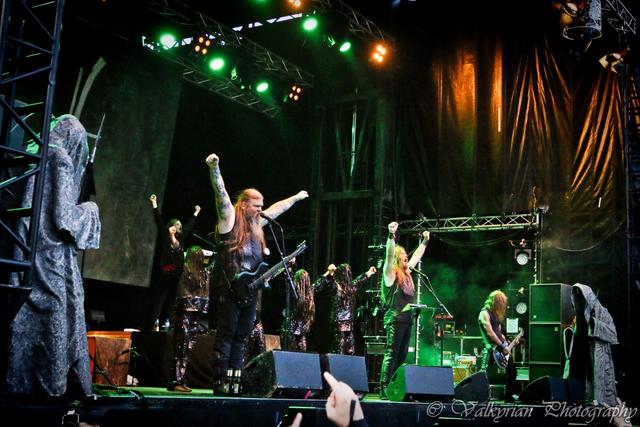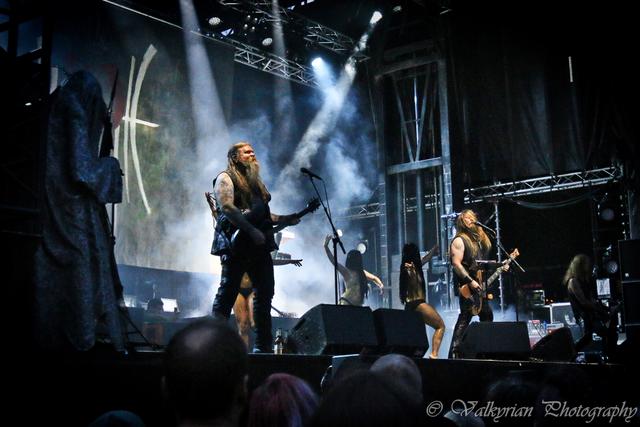 The absolute highlight of the festival was unsurprisingly HEILUNG, a Neofolk band. MIDGARDSBLOT festival is a very special place for this band, with the first instance of the festival having been where members of the band met. It was also the location of their second ever show two years ago. Since then, the band has gone to achieve worldwide acclaim, especially with their new album "Futha", and the audience at MIDGARDSBLOT welcomed them back with open arms, fully surrendering to the trance-like music that came cascading from the stage in dark and powerful waves. Although HEILUNG's music is already captivating, what makes their shows so spellbinding is the performance they deliver with each set. Everything they do is thought out, with minute attention to details and tireless rehearsals to make the show into an unforgettable and spectacular experience. This begins with a forest-like stage setup which transforms the stage into a sacred setting, providing the perfect ambience for their performance. The show itself starts in a very ritualisting way, with white sage smudge sticks being used to cleanse the audience, the band, and the stage of any negative energy. And only once this is done does the music start, with the sonic landscapes and tapestries woven by the band being supported by visual story-telling using various elements. The band's outfits reinforce the natural and animalistic aspects of HEILUNG's music, whilst warriors on stage portray the meaning behind the music, weaving tales of loss, turmoil, struggle, being bound and restrained, and ultimately of release.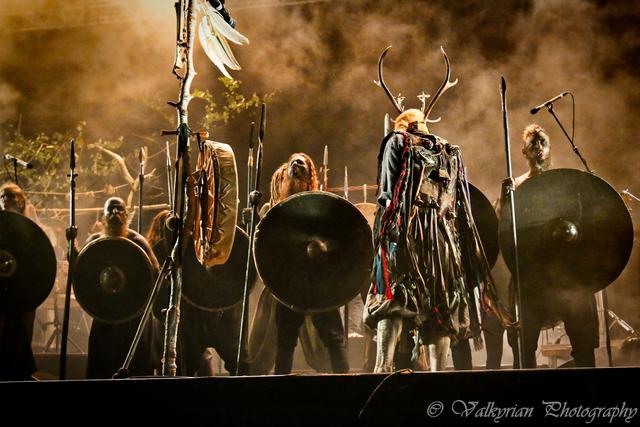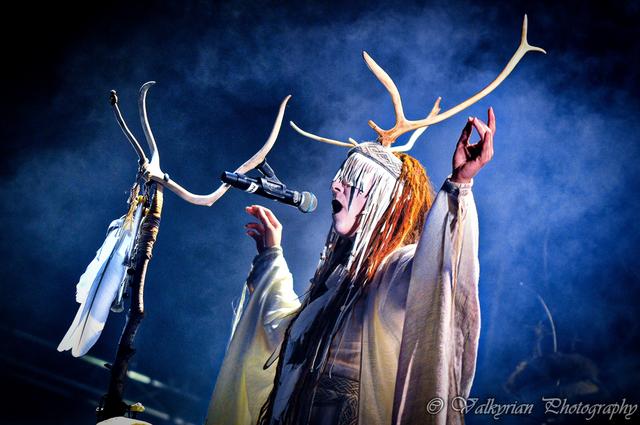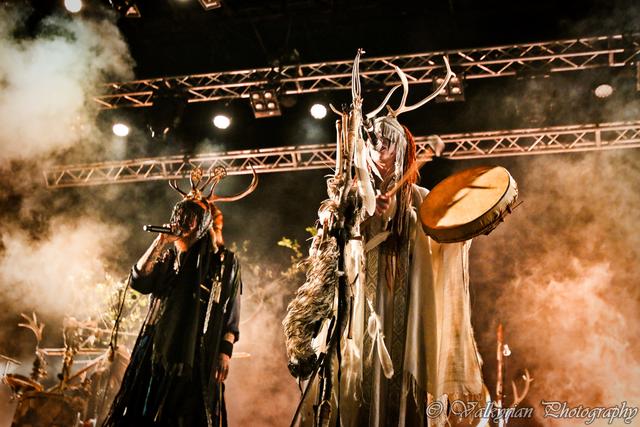 As with all festivals, there were a few small gripes among the visitors. The first was the line-up: whilst the festival covers a range of musical tastes, some of the performances - although for the most part excellent in themselves - didn't quite seem to fit in with the general reputation which MIDGARDSBLOT has built up over the last few years. I heard many conversations which ran along the lines of: bands like DEICIDE and TORMENTOR are fantastic bands, but perhaps not the best fit for a festival that has viking culture at its heart. The other commonly heard complaint was ironically about the audience themselves; many who had been to the festival before felt like the festival is becoming more of a "tourist attraction", bringing in many people from near and far who don't necessarily belong in the typical viking/black metal/reenactment scene and who were just there to see what MIDGARDSBLOT is all about. However, whilst these comments are valid to a certain extent, they partly miss precisely that which makes MIDGARDSBLOT stand out among all the other festivals on offer. It is exactly MIDGARDSBLOT's ability to bring together people from diverse cultures, backgrounds and interests and still integrate them all into one big family that makes the festival what it is. At no other festival have I seen such a sense of community as at MIDGARDSBLOT. This is even more obvious on the Midgardsblot Info page on Facebook, where a worldwide online community has come together to share their common love for music and Nordic culture on a daily basis, so why focus on differences instead of looking at what binds us all together?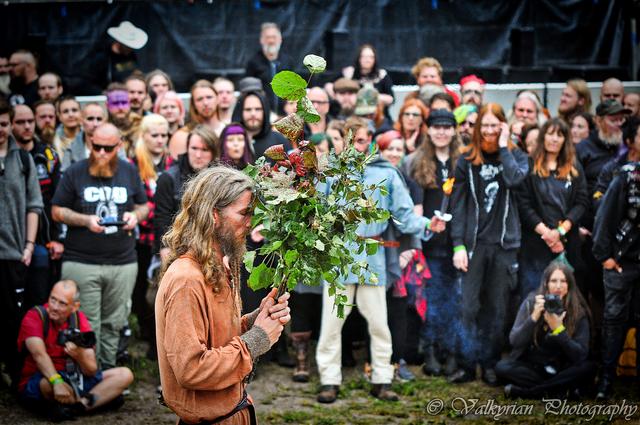 MIDGARDSBLOT
2020 will be taking place from the 13th to the 15th of August. Although not much is yet known about the lineup for next year, we do seem to have one hint: earlybird tickets and weekend passes are being sold for 1349 NOK… I wonder which band could await us next year? This speculation aside,
MIDGARDSBLOT
is a really amazing and unique festival, and one that should definitely be experienced at least once. However, because of this, tickets do sell out really fast, so be sure to get your tickets for 2020 as soon as possible: you won't regret it!
Metal Temple
looks forward to seeing you there!
More photos can be found
here
. 
Ticket Price: