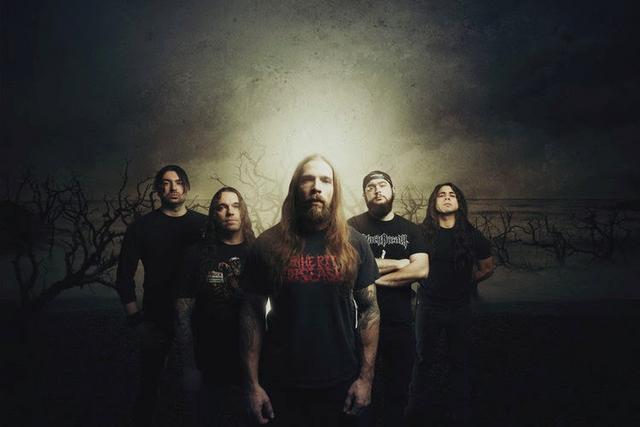 Death metal stalwarts
BROKEN HOPE
will return to Europe for one final time this year! The band will perform select dates in August in celebration of 30 years of
BROKEN HOPE
's existence since their formation in 1988.
Original founding member Jeremy Wagner says,
"I never dreamed when I was a teenager in high school that I'd still be playing with this band I helped form 30 years later. I honor Joe Ptacek and Ryan Stanek who also started BROKEN HOPE with me and are no longer here… I honor them every time I hit those stages and I continue
celebrate the spirit of BH and death metal with my brothers Damian, Mike, Matt, and Diego.

We're excited to play BRUTAL ASSAULT (CZ) again and also play HELLFIRE FEST (BERLIN), KALTENBACH OPEN AIR (AUSTRIA) and DEATH FEAST OPEN AIR (Germany), and all points in between on the EUROPEAN CARRION TOUR!"
BROKEN HOPE
European Carrion Tour 2018
Celebrating 30 years of Broken Hope's gory existence - 1988 -2018
09.08. Jaromer - Brutal Assault (Czech Republic)
12.08. Hannover - Bei Chez Heinz (Germany)
13.08. Berlin - Hellfire Fest @Bi Nuu (Germany)
15.08. Rotterdam - Baroeg (Netherlands)
16.08. London - New Cross Inn (United Kingdom)
18.08. Leeds - Temple Of Boom (United Kingdom)
24.08. Spital Am Semmering - Kaltenbach Open Air (Austria)
25.08. Andernach - Death Feast (Germany)
More dates to be added soon!
Official Facebook event page:
https://www.facebook.com/events/202483703920890
Tickets and more here:
https://www.mad-tourbooking.de/tourdates/broken-hope
Described as…
"a delightfully brutal and disgusting sonic assault"
by KERRANG!,
BROKEN HOPE
released their seventh full length studio album Mutilated and Assimilated last via Century Media Records (Sony).
Produced by Scott Creekmore and cover artwork created by Wes Benscoter; Mutilated and Assimilated is available now in the following formats: Special Edition CD+DVD Digipack and digital & streaming versions available via all major outlets worldwide.
Order
Mutilated and Assimilated
at:
http://smarturl.it/MutilatedAssimilated
"BROKEN HOPE are back in the saddle…composed highlights such as the bestial "The Bunker", the dynamic groove pendulum "Outback Incest Clan", the dissonant, "Russian Sleep Experiment" or the "The Necropants" convey brutal energy in a powerful sound. Chicago's Death veterans are an interesting bridge to their 1991 debut, ending a solid inferno hit factor."
- METAL HAMMER (DE/Germany)
"The title track references the horror classic The Thing, and that sort of Lovecraftian body horror is at the center of why BROKEN HOPE's horror metal works so well: they understand that a good monster needs to be scary, but it also needs nuance and times when you can catch your breath and ponder your futile existence. Mutilated and Assimilated nails that aesthetic, as the band's shape-shifting death melodic brutal death is a (horrifying) beauty to behold. Songs immediately sink their meat hooks into you and stay there for a while. This is the kind of gorefest that is meant to be savored, even if you'd rather look away. BROKEN HOPE
have, after all this time, crafted their sharpest statement of intent, and it's deadly, seriously, great."
- New Noise Magazine
"Taking inspiration from the John Carpenter classic, Mutilated and Assimilated is not only the albums brilliant title track but a representation of the band themselves. Having once more mutilated songs from their original fleshing out to what we will
now here on the album the band have crafted some of the heaviest and catchiest Death Metal you'll hear this year."
- The Metalist
"While the jagged guitars and pummeling rhythms are as gentle as bandsaws, I was most impressed by Damian Leski's venomous vocals. The man sounds like he's getting in his regular 64 ounces of Drano on "The Bunker" and "Russian Sleep Experiment." Mutilated and Assimilated, a reminder that it's Wagner and Company's bloody barbecue… and it still tastes good."
- GhostCult Magazine
"In terms of Death Metal albums in 2017, BROKEN HOPE's Mutilated And Assimilated earns them top honours. Without further upheaval, CrypticRock gives this album 4.5 out of 5 stars.
" - CrypticRock.com
"Sure, Mutilated and Assimilated honors BROKEN HOPE's legacy and finds strength in thepast-but it does so without dwelling in the afterbirth. The result is an inspired death metal record that feels like a lethal new mutation; like the creature from The Thing adapting to claim its next victim."
- DECIBEL MAGAZINE
Mutilated and Assimilated
official tracklist:
1. The Meek Shall Inherit Shit (02:48)
2. The Bunker (03:28)
3. Mutilated and Assimilated (03:31)
4. Outback Incest Clan (02:31)
5. Malicious Meatholes (03:50)
6. Blast Frozen (01:58)
7. The Necropants (03:14)
8. The Carrion Eaters (03:07)
9. Russian Sleep Experiment (03:15)
10. Hell's Handpuppets (02:48)
11. Beneath Antarctic Ice (01:25)
12. Swamped-In Gorehog (06:21
BROKEN HOPE
online:
https://www.facebook.com/brokenhopeofficial
http://www.brokenhope.com
https://twitter.com/BROKENHOPEBAND
https://www.instagram.com/brokenxhope
http://www.bandsintown.com/BrokenHope
https://soundcloud.com/brokenhope
https://www.youtube.com/user/jwag666
Line-up:
Damian Leski - Vocals
Jeremy Wagner - Guitars
Mike Miczek - Drums
Matt Szlachta - Lead Guitars
Diego Soria - Bass
Discography:
Mutilated and Assimilated (2017)
Live Disease - Live at Brutal Assault 2014 (2015)
Omen of Disease (2013)
Grotesque Blessings (1999)
Loathing (1997)
Repulsive Conception (1995)
The Bowels Of Repugnance (1993)
Hobo Stew EP (1993)
Swamped In Gore (1991)
---
Kyle Scott
---