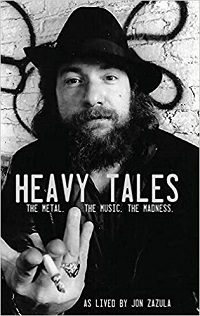 If you listened to the birth of 80's Thrash, or you love those classic early albums of
METALLICA
and 
ANTHRAX
you know
Jonny Z
. You may or may not recognize the name, but rest assured, your Metal world wouldn't have been the same without one
Jon Zazula
and his merry cast of characters, wife
Marsha
,
Metal Maria
and more.
"
Heavy Tales: The Metal. The Music. The Madness. As Lived"
is
Zazula's
story, and it's a damn fascinating and inspiring tale indeed.
Opening with a forward written by
TESTAMENT
front man,
Chuck Billy
, the book chronicles the epic highs and crushing lows
Zazula
has experienced in his memorable life. Always quick to credit his wife
Marsha
as well as God, for the successes,
Jonny Z
lays it all out. The beginnings, the bands, the successes and the failures. He discusses his manic depression honestly, but never plays the victim to it. Rather his story goes to show what a little intuition, a bit of divine intervention, the right support and a whole lot of drive can achieve. Ultimately, it's an American success story and his blueprint for achieving that success in an era of marketing by word of mouth rather than the internet.
Zazula
discusses the stark and lean beginnings in a New Jersey flea market, scraping to buy and turn rare picture disc LPs that began his musical empire. Those lean beginnings continued as the empire grew, and
METALLICA
entered the picture and the infamous
Casa Z
.  Discussing the time period,
Zazula
offers a unique behind the scene perspective that brings many of the often told tales a new life. Still,
Zazula
doesn't spend much time discussing
METALLICA
. After all, that story has been told, and there's so much more to cover. You have Megaforce Records. There's
RAVEN
,
ANVIL
and
RIOT
and that legendary show that
Zazula
put on in NYC. There's the Metal/Rap evolutionary fusion hybrid that was
ANTHRAX
. There's
S.O.D
.,
TESTAMENT
,
FREHLEY's COMET
,
KING's X
,
WARREN HAYNES
and more. Throughout it all,
Zazula
deals with betrayal, accomplishments and an ability to always be living on the edge of an ever changing music scene. Not bad for an old fellow Deadhead (we are everywhere!).
Throughout the book
Zazula's
written story comes across like you're having a one on one conversation with the man himself. There's humor, emotion and an undeniable love for the music he's so intricately been a part of. Coming in at about 190 pages, it's a fast, easy read and the generous section of photos alone makes this a must have.
"Heavy Tales"
is a insider look at the often callous world of the music business told with unusual  honesty and directness. Hitting bookstore shelves on October 29th, I'd encourage you to pick up a copy, settle into your favorite comfy chair with favorite beverage and a warm fire and dive into
Jon Zazula's
memorable tale. As a personal side note, I have to add that the review version I received was in a digital ebook format, which was a first for me. Much respect to those of you that use the format, but it's not for me. My eyes and attention span struggled , and truth is, much like music, I prefer a physical copy. So rest assured, I'll be seeking out a copy of
"Heavy Tales"
myself. Preferably one of the several signed copies that are available for pre-order or will be available at various promotional book store signings. I'd encourage you to do the same. The easiest way to get your copy is to order it from Jon directly:
https://www.jonzazula.com/