Added 01 November 2014, 9:51 PM
Author:
Steinmetal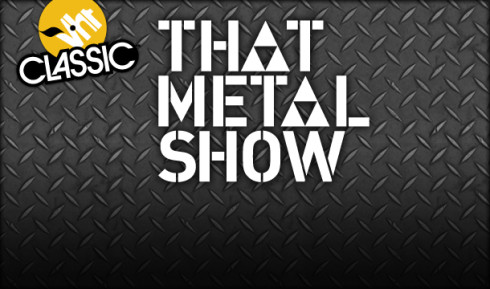 Today my topic will be That Metal Show on VH-1 Classic. Though VH-1 Classic is not a readily available channel on most standard cable packages, how cool is it that Eddie Trunk and his co-hosts managed to get a Hard Rock / Heavy Metal show on television? I give the man much credit as well as respect for his long and storied career in music. At 25 he was a VP for a major record label, and was responsible for reviving the career of one of my most favorite musicians of all time, Ace Frehley. He is also known for his impossible knowledge of Metal music, though I fancy I could give him a run for his money if he widened the genre to include modern day bands. That Metal Show boasts to be a television show about "all things Hard Rock and Heavy Metal". However, according to Eddie, the network is only interested in the show giving press and face time to "classic" Hard Rock and Heavy Metal bands. In other words, the network is not interested in newer bands, nor the revival movement of Heavy Metal which occurred overseas Post-Grunge, and continues to lead the genre even today. This part I have a major problem with, but if the network says the shows integrity is tied to this strict principle, then so be it. However, read on…
 
To further the problem, Eddie has gone on record saying he "doesn't like Death Metal". But, a beautiful thing happened when traditional Death Metal melded with a wonderful concept called melody in Sweden over 20 years ago. This style of music bore a whole new and fresh take on Heavy Metal music and has produced some of the most amazing bands the world over since, including IN FLAMES, DARK TRANQUILITY, AT THE GATES and newer and more extreme acts like OMNIUM GATHERUM. I hold two primary tenants about this movement:

1.     Eddie is not largely aware of it.
2.     Eddie would not like it anyway.

Sometimes his co-hosts, Jim in particular, show some knowledge of European Metal and snippets of this sub-genre in particular, but in large remain blissfully oblivious to the importance of advancing Heavy Metal and essentially allowing them to have jobs in the industry. But, back to the original point.  Fine, the station is for "classic" Metal only, so I need to just put the idea out of my head that they will be able to give coverage to anything past the mid-1990s and / or any of the modern day Euro bands which dominate the Metal scene today. Fine, I can accept the fact that this is completely out of Eddie's control as the host, and if he had it his way, he could love to include more modern day bands in his show. Fine, Eddie gets tired of talking about "did you hear the new VAN HALEN album" or "how about that AEROSMITH release" when truthfully he knows neither amounted to a pile of dog shit and are about as relevant today as 70's avocado and sunset orange colors in a new kitchen motif.

So, because of the scope of the network and the show, Eddie is prisoner to talking about "classic" Hard Rock and Metal only. So, I must accept this as the integrity of the show's being, and of Eddie as host, and therefore I know there will never be any talk or face time given to any new metal bands on this show. See, there is no problem at all, and I wasted my time with this rant.  It is what it is, and Eddie does not have the power to change it. This is all well and good, and I can now put the matter to rest. That is, until the day when… he had on the singer from SLIPKNOT and the singer from DISTURBED as guests on his show. How in all of God's creation does Eddie think his foray into modern music can possibly be the total abominations of music called Nu-Metal???!!!  He finally breaks free of the network stranglehold (as he has stated is to blame) and decided his statement of the modern day Metal scene will be with SLIPKNOT and DISTURBED???!!!  Integrity of show=Gone. But worse, had the integrity been cast aside for a band that was actually good, or advanced the metal genre, or had something new and good to offer to Metal music fans, I would have respected his decision. Instead he makes his stand to the network by choosing SLIPKNOT and DISTURBED. Sorry for all of you who like Nu-Metal but I just cannot stomach any of it and will make fun of it every chance that I get.

I might have forgiven him for the time he called the stalwart, Steve Harris penned IRON MAIDEN track "Invaders" a "filler song" on the album "The Number of the Beast", or possibly for the time he offered as an excuse for not knowing some RUSH trivia that he "checked out on RUSH during the 1980's", but giving press to Nu Metal on your show over the modern day Euro scene as your act of Metal rebelliousness is unforgivable. To this I advise, hang it up, retire and stay in your basement with your UFO records, and pass on the torch to someone who actually knows the Metal scene of today, to carry forth its legacy untarnished, into infinity and beyond.  Hacks!!!